BVB TopClean for blueberries
BVB TopClean is an organic covering agent that can be used to prevent the growth of moss and weeds .This covering agent is extremely suitable for use with berries, but it can also be used for cultivating ornamental plants. BVB TopClean has been thoroughly tested in our laboratory and by actual growers.
Product traits
BVB TopClean is an excellent covering agent for your blueberry plants. It keeps your containers tidy and free of weeds, while ensuring clean movement and transportation.
Safe: extensively tested and completely safe for crops
Moisture: permeable to water, quick drying, and reduces evaporation of the substrate
No waste: the cover material forms a solid top layer that stays in place during transport and in windy weather
Applicability: can be used for both pot and open soil cultivation
Availability: available in big bags, big bales or 70L bags.
Instructions for use
Apply at least a 1.5 cm layer of BVB TopClean to each pot.
The top layer will become one solid layer after watering the plants a number of times. As a result, no material is spilled and the tray field and means of transport will remain clean.
BVB TopClean can easily be applied with any common dosing machine.
The covering agent occupies approximately 10% of the pot volume. For this reason, possible adjustments to the amount of fertilizer must be taken into account.
The use of BVB TopClean reduces evaporation in the substrate. Keep this in mind when setting the irrigation frequency.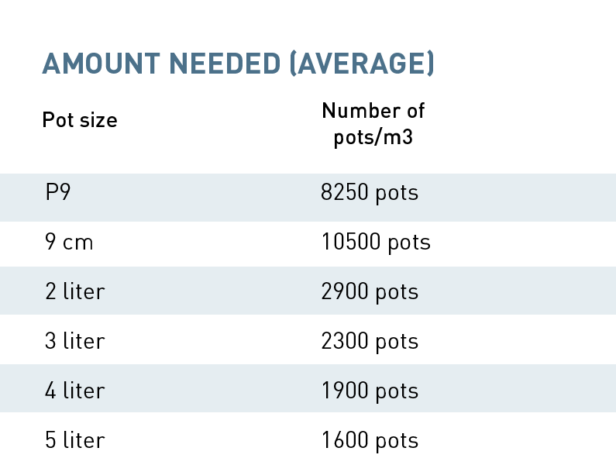 Composition & amount required
Chemical analysis
EC value: <0.5
pH value: 4.5–5.0
No nitrogen fixation in the case of cultivation with conventional fertilizers
Composition
50% stable bark (topping bark 4/8)
50% bark wood