Professional casing soil
BVB Substrates supplies mushroom growers with professional casing soil, which is delivered worldwide. We offer casing soil in different densities and moisture levels, and we take hygiene matters very seriously. So get your top-quality casing soil from BVB Substrates!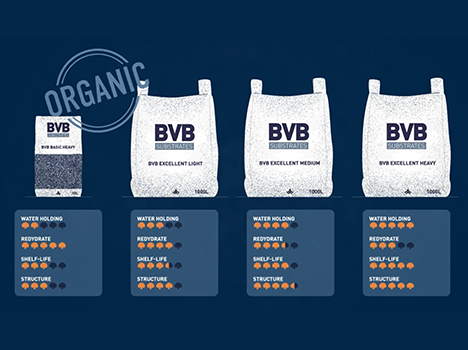 Play video
Different types of casing soil
We can supply our customers globally with various types of casing. Each type has it's own unique properties and uses. With this animation video, we aim to explain the differences and offer a little more insight into our product portfolio.
BVB Green Plus: next generation casing!
It's all about quality
Our casing soil is made of high-quality European deep-dug peat, combined with frozen black and white peat. We use sugar beet lime to reach the right pH level. BVB Substrates can also produce different types of casing soil that are tailored to the needs of each specific growing type, including organic farming and different mushroom species. We make specific mixtures for growers who hand-pick their mushrooms, and casing soils for growers who harvest their mushrooms mechanically.
Products
We offer casing soils with different moisture levels, ranging from 68-80%. These mixtures are tailored to fit our customer's needs. We can also adjust the mixtures to increase their processability.
Kekkilä-BVB has developed its own assessment method for casing soils. We also have our own spray tables to ensure a stable product and constant quality. We check the water uptake capacity, pH level and adhesive strength. In particular, in the cultivation of mushrooms, it's tremendously important to constantly check the quality of the casing soil.