For this interview we spoke with Nikola Jokic, the proud owner of Berry Blue. This blueberry farm was established in 2017 and has been growing ever since. Berry Blue is located in Ruma, which is the Western part of Serbia. Nikola tells us all about their journey so far and the way products and support from BVB Substrates aid him.
"We set up our first plantation on 6 acres. Today, 3 years later, we and our partners own 25 acres of blueberry plants. We are planning to double that to a total of 50 acres soon." Nikola tells us. Berry Blue mainly uses blueberry plants from the Duke variety that are grown in 35-40 litre pots, and delivers fresh blueberries to the major markets. Berry Blue's blueberries can be purchased all over Russia, Europe and Asia.
Hard work and continuous learning
"Before 2017, neither me, nor my business partner had any prior experience in agriculture. We did, however, see opportunities and had the will to learn. After extensive research we felt confident that we should start this business venture." Serbia has very suitable conditions for agricultural businesses in general and growing blueberries in particular. The government provides extensive support, which makes investments in agriculture even more attractive. "In addition, the favourable climate conditions, availability of suitable water sources and the competitive labour market as well as reach to the major markets made growing blueberries the right choice for us." Nikola explains.
Nikola adds that the beginning was very challenging, but they did not think of giving up. "We believe in hard work, quality and continuous learning. Over time we gained a lot of knowledge and the business picked up."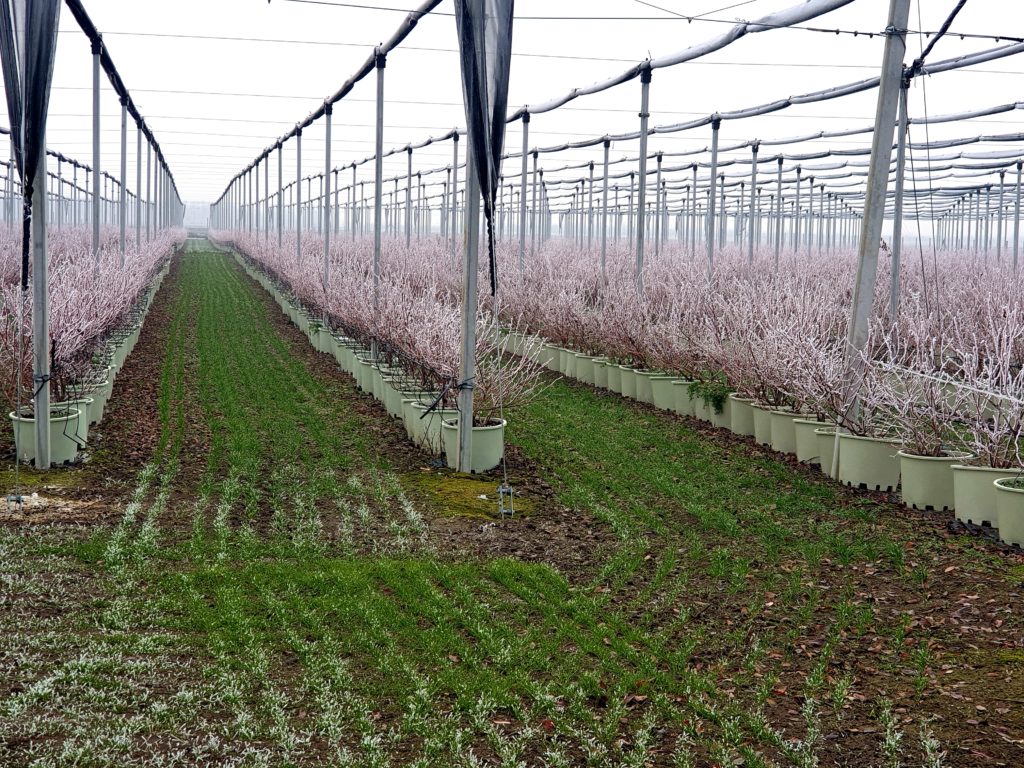 Every day counts
When we asked Nikola what he thinks is most important when owning a business like Berry Blue he replies: "The most important thing to keep in mind in this business is that every day counts. It's highly important to be dedicated to the production process. Mistakes we make today show up when harvest comes, therefore it is very important to make the right decisions in time."
By now Nikola has a dedicated and experienced team and the results of all their hard work are showing. "It makes me proud to see that the quality of our product is recognised on the market. The high quality of the product is the result of hard work and the use of the best technology. We are proud that we have managed to reach this excellent level of quality and are able to keep all our employees and business partners happy to work with us."
An excellent relationship
BVB Substrates had been Nikola's trusted growing media brand from the start of his company. Berry Blue immediately recognized the quality of the growing media as a critical component in production: "From our experience the product is the best in its class and we have never had any issue in terms of quality or delivery." BVB Substrates is well known for not only supplying excellent products, but also for believing in sharing knowledge of growing. "Through this knowledge sharing we have learned a lot! Not only about the substrate but also about the water and fertilization management." Nikola adds.
"From day 1, our relationship with BVB Substrates has been excellent. Apart from the excellent quality of the products, we very much appreciate the overall support that the brand provides. For example, we got the opportunity to visit one of the production sites of BVB Substrates. In addition their Sales Advisor set up visits to other customers in the area. It was a unique opportunity for us to share knowledge and learn new things. Next to that BVB Substrates provides consultancy for us in terms of the feeding program and water analysis which is very valuable for us."
Nikola concludes his story with a glimpse of the future: "We have ambitious future plans and we aim for growth. We see BVB Substrates as our long-term strategic partner, which will be there to rely on, every step of the way."
Click to read more stories like Nikola's        –        Click to read more about blueberry growing media