Our sales advisors have a personal connection with many of our customers. In this article orchid grower André van der Goes; owner of Inca Orchids B.V. tells us about his beautiful company and the way BVB Substrates has been able to help him grow.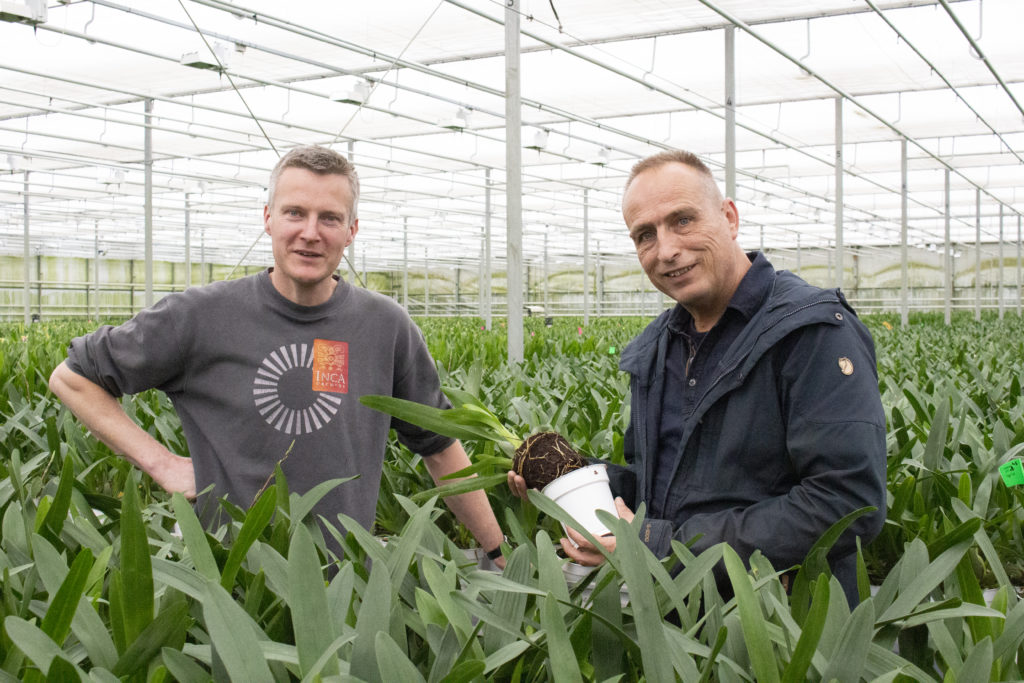 André van der Goes (orchid grower Inca Orchids B.V.) and John Noordam (sales advisor BVB Substrates)
Can you tell us a little about your background?
"My father and mother started the company as a partnership with the cultivation of lettuce and cucumbers. Later they switched from vegetable growing to cut flowers. Then, they made another switch in 2007, this time to the cultivation of pot orchids. From this moment on I joined the business and have now taken over from my parents.
I was lucky that at a young age I knew that I wanted to become a breeder. But my father thought that I first had to broaden my horizon at the MAVO. I soon realized that this was not my cup of tea and therefore it felt like a liberation when I could go to the horticultural school and then make the move to the nursery.
Since a year and a half we are also responsible for the propagation of our own plants. This is managed by my father. My mother has also been active in the business for a long time, but since 2013 she has left the company. Working with my family brings both advantages and disadvantages. It is not always easy to work with your family in one company and that is no different for us. Yet I am very satisfied with our dynamics, my father runs the propagation and I myself am responsible for the rest of the business. This way we each do our own thing but we still support each other and we can share knowledge, that's what I'm happy about."

What do you like best about being an orchid grower?
"As an entrepreneur you have freedom, as a result, entrepreneurship feels like an adventure to me. I like to be busy with our plants on a daily basis. Next to that, I also enjoy dealing with the different people I work with. I find the contact with customers and colleagues from all over the world particularly special. Because of this, not a day goes by without a new challenge. I am also busy gathering and sharing knowledge. I have come across orchid species that were on the brink of extinction and today they are in my greenhouse."
What are you proud of as the owner of Inca Orchids?
"The diversity of orchids that we grow. We currently grow around 50 different varieties. However, it is not only the plant, but also the involvement of all our people in the product and company and the service towards our customers which makes me proud. It is important for us to be available for our customer when they need us. You can best define our relationship with the customer as mutual respect, with responsibility and reliability at the forefront.
I see the same aspects in my relationship with BVB Substrates and John (Noordam). Looking at the new company values ​​of Kekkilä-BVB you could say that I mainly see the values ​​"Focus on customer success", "Achieving together" and "Trust through respect" in my relationship with John. We work together and discuss more than just the optimum composition of the growing medium. We also talk about how the irrigation system influences the composition of the growing medium and how I can adapt the nutrition of my plants to the mixture."
For how long have you been using BVB Substrates products?
"I have been a BVB Substrates customer since January 2016. We use a mixture of coco, wood fibers, bark and coco peat."
How do you see your relationship with BVB Substrates and how does it add value?
"I see BVB Substrates, and especially John (Noordam), as a sparring partner. For me, the extra service in addition to the product is a great added value. John is very driven and continues until the result is good. He has also been a grower himself and therefore understands the challenges I encounter on a daily basis. Because of his experience as a grower, he also has knowledge of aspects other than just the growing media, such as the irrigation and feeding of my plants. This knowledge helps me to get the best out of my cultivation and I see the result on a daily basis.".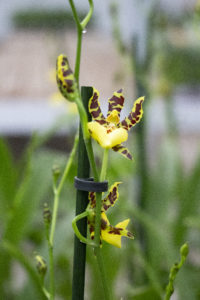 What challenges have you overcome together?
"During our cooperation, we mainly focused on the quality of the growing medium. As a result we arrived at the optimum growing medium through various tests in the BVB Substrates laboratory and tests in the greenhouse. We mainly looked at how we could achieve a nicer color of the plant and flower through adjustments to the growing media. Other challenges were to reduce the growth of moss and to find the correct dosage of water and food. Here too we have achieved good results through consultation and testing." orchid grower André says.
What is the importance of sustainability to you?
"With us, sustainability often translates into efficiency where we strive for continuous improvements. Through this process, we try to use fewer chemical pesticides. Over the years, we have been able to make good steps in this direction. Currently, we have departments in the greenhouse that are already completely free of chemical pesticides. In addition, we are working on rainwater collection and we have been ensuring a complete recirculation of water in the greenhouse for years. We also look at plastic and the plastic that we use in our pots and packaging. These consist of 100% recycled material. This adds to the sustainability of the company but the pots are also stronger, which is an addition to the quality of my product.
Together with John, I also look at the sustainability of the mixtures used, trying to find a balance between the sustainability of the growing media and the quality. Growing a beautiful, sustainable and high-quality product comes first. We are always focused on the future, we look for innovation and strive to continue to surprise our customers."