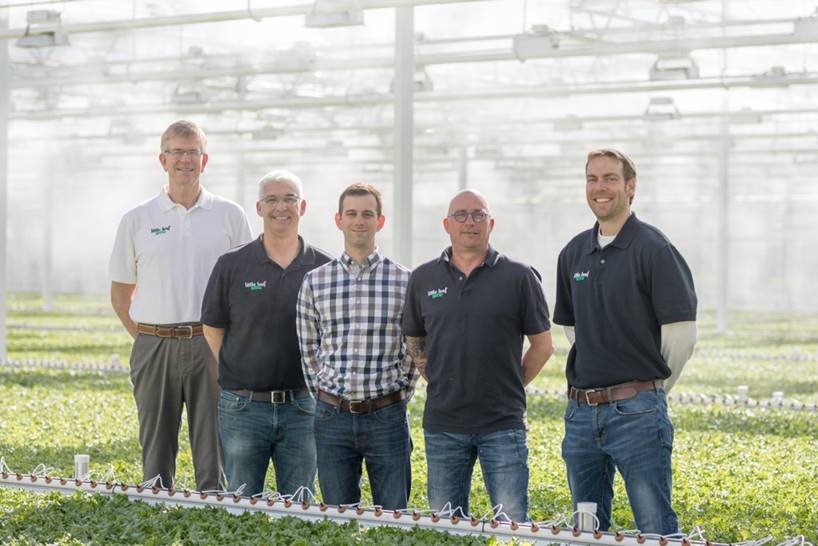 Little Leaf Farms has built the most technically-advanced lettuce growing greenhouse in the world and focusses on sustainable technologies. They have been growing fresh lettuces in Massachusetts since 2015 and have great plans for the future.
Pieter Slaman is head grower at Little Leaf Farms in Boston. Prior to joining the team Pieter managed the largest organically-certified greenhouse in the world. In this article he tells us a bit more about Little Leaf Farms' ambitions and their relationship with Kekkilä-BVB.
People are the key to successful growing
The team at Little Leaf Farms had great plans right from the start. Pieter was really excited to be part of setting up a whole new, technically advanced growing facility. "Starting a new company with new systems and new people, all eager to succeed, puts a lot of pressure on you. It was challenging to get everything running smoothly and to determine the right place within the company for each of us, but it was a great and rewarding experience.". He is pleased to say Little Leaf Farms really changes the way how food is grown by rethinking traditional agriculture. They focus on producing locally and sustainably. Pieter believes there's a great future for this type of growing ahead.
Pieter is really proud of the way his team gives 100% every single day and absolutely loves educating and motivating them. "Believing in the people that work at your facilities and giving them fair opportunities is at the foundation of a successful company." Pieter thinks.
Organic growing
Pieter tells us Little Leaf Farms has been growing on rockwool for a while now, but they soon want to change to organic mixtures. "We believe in a future of organic growing, so this is only a logical step for us." he explains. Kekkilä-BVB has been able to support them in this switch by facilitating product tests with new professional BVB Substrates mixtures. "Ultimately we just have to make this come true ourselves, but it does really help that our advisor at BVB Substrates understands what we are doing and what our future plans are. I like their direct way of facing issues and conversation.".
In addition to this switch to organic growing, Little Leaf Farms also plans on expanding their facilities greatly. During the next ten years they plan on adding another 10 acres of greenhouses, in different States, to the 5 acres they currently have.
Click this link to read more about our lettuce growing media!